From vinyl records, tapes, CDs to digital music, every technological innovation has changed people's experience of music and how they consume it. MP3 has played a different role in this period of history since its emergence. It has changed the pattern of music market. The way of doing business in the whole music industry has been completely reversed. The original discourse power of record companies has gradually been replaced by technology companies with technology and digital channels. MP3 enables everyone to enjoy music conveniently and quickly.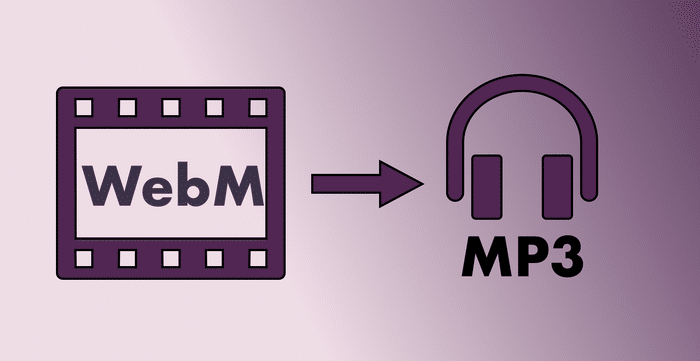 However, today many online video resources, such as the YouTube videos, are downloaded in WebM formats. If you only want an audio copy saved in MP3 formats, you have to manually convert the WebM to MP3 under the help of professional video converter. In this blog, the top 3 ways enabling you to convert WebM to MP3 will be provided. Check them now!
Part 1. Free Convert WebM to MP3 with VLC Media Player
When you've tried looking for software that can convert audio and video files, you may find it hard to find a really powerful and free solution. However, what you may ignore is that VLC Media Player can perform not only as a media player, but also a converter, which can help you convert WebM to MP3 freely.
VLC Media Player is a stable and widely-used media players for Linux, Microsoft Windows, Mac OS X, iOS, and Android systems. VLC Media Player has been known as a great media players for years, but actually, it has a hidden feature that enables users to convert the format of media files. So in the following, we will introduce the steps on using VLC Media Player to convert your WebM video into MP3 format. The steps are easy to follow. Scroll down and have a look!
STEP 1. Open VLC player, go to "Media > Convert / Save".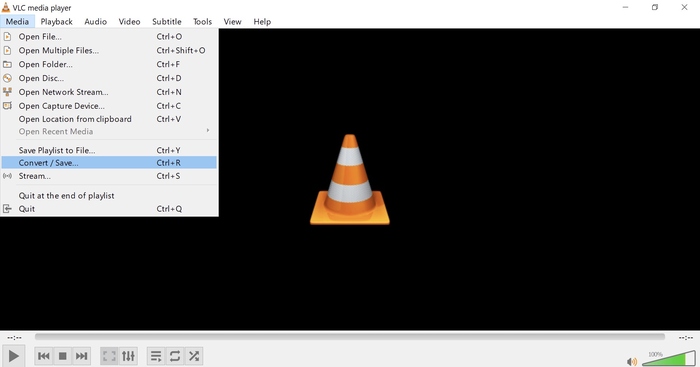 STEP 2. In the pop-up window, you should add the WebM file you want to convert into VLC Media Player by clicking on "Add..." option. Then you can browse your computer and choose the WebM format for adding into VLC Media Player. Then you need to click "Convert / Save" at the bottom of the "Open Media" window.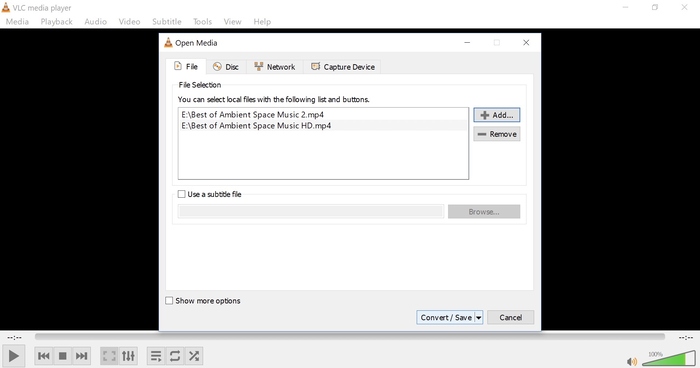 STEP 3. Now, you can select MP3 as the output format for converting the WebM file. In "Profile", drop down the list and find MP3. Click it to select.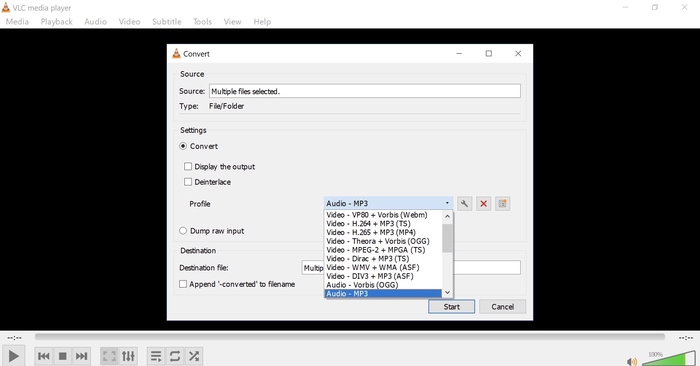 STEP 4. After selecting MP3 as the output format, just click on the "Start" button to start the conversion process. After conversion, you can get the converted MP3 file in the destination folder selected in the previous step.
Converting WebM to MP3 with VLC Media Player is really simple and not complicated. However, by comparison, another video converter equipped with much stabler and professional video converting function is also recommended to you. That is Video Converter Ultimate. Why is it so outstanding? Let's take a look.
Part 2.[Recommend] The Best WebM to MP3 Converter - Video Converter Ultimate
We recommend Video Converter Ultimate because it is a very professional and now becomes a leading video converter in industry. It has many highlighted functions that can meet almost all your needs. If you want to convert very memory-intensive WebM video files to MP3, Video Converter Ultimate video converter is a wise choice for you. It supports more than 300 common and popular video/audio formats. In addition, you can convert WebM video to any device with over 100 presets.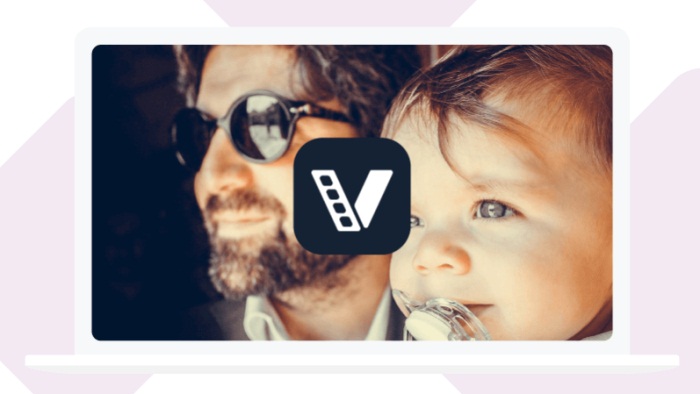 So, what makes Video Converter Ultimate stand out among so many other competitors ? You can get the answer here.
Main Features of Video Converter Ultimate
Provide up to 6x faster conversion speed and fluent in-app performance.
Lossless transcoding and adjustable quality settings allow users to convert media formats without quality loss.
The built-in video editor allow users to create and edit video/audio file to be more personalized.
Video Converter Ultimate register version allows users to convert files in batch, without wasting too much time.
Video Converter Ultimate is available for both Windows and Mac systems. And it also provides a free and register versions for users to select. You can download Video Converter Ultimate now and starting converting your WebM format to MP3 following the guidance below.
How to Convert WebM to MP3 with Video Converter Ultimate
STEP 1. Install the best WebM to MP3 Converter
According to the system you are using, install the right version of Video Converter Ultimate, then launch it and click "Add File > Add File(s)" to import the WebM files from your computer to the interface of Video Converter Ultimate.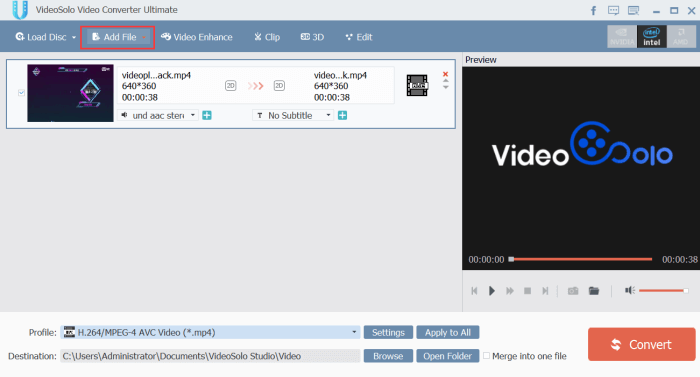 STEP 2. Choose MP3 as Output Format
Click "Profile" under the workplace and a drop-down list will be provided for you to choose the output format. Browse the list and select MP3 as the output format. You can also type MP3 into the search bar in the format list to get access to the format quickly.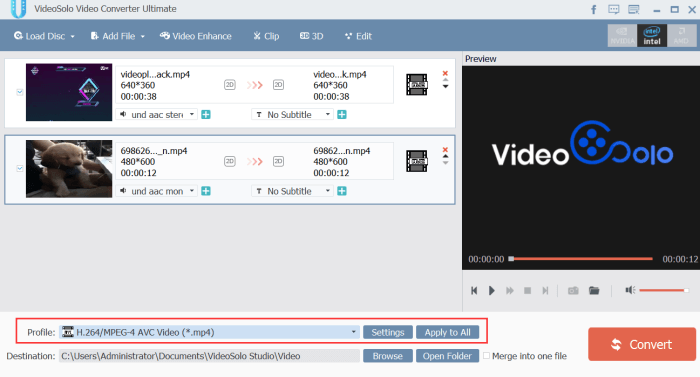 STEP 3. Convert WebM to MP3
Under "Profile", you can also choose an output folder to save the converted MP3 file on your computer. After setting, finally, just click the "Convert" button to start converting WebM to MP3 using Video Converter Ultimate.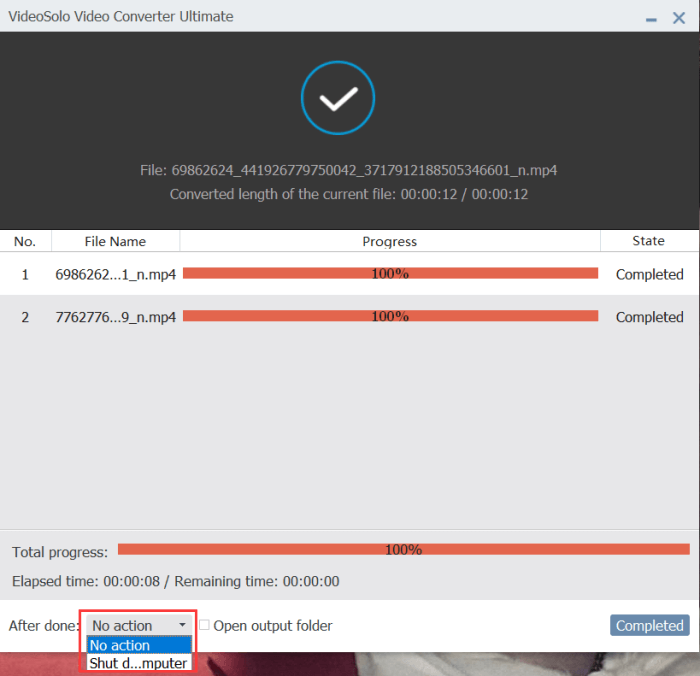 Part 3. Convertio - Free Convert WebM to MP3 Online
If you don't want to download an extra software, using an online converter to convert WebM to MP3 is also a good choice. Convertio is a functional and workable online platform, allowing users to easily convert files to other different formats with simple clicks. Only 3 simple steps are required to convert WebM to MP3 with Convertio. Let's check now!
STEP 1. Open Convertio WebM to MP3 Converter in your browser. Then click on the red "Choose Files" button to browse and choose the WebM video you want to convert to MP3 on your computer. You can also select the file from Google Drive, Dropbox, URL, then drop them on the page of Convertio WEBM to MP3 Converter.
STEP 2. Select MP3 or any other format you want.
STEP 3. Let the file finish being converted. Then you are able to download the converted MP3 file for saving on your computer.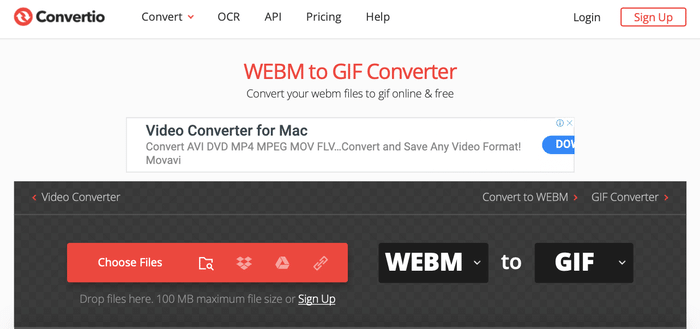 MP3 is the most popular audio file format. It uses specific compression methods to reduce the size of audio files without losing significant recording quality. In addition, MP3 is widely-supported by almost all devices and media players! It would be the ideal format that you can convert your WebM video to. If you need, just try any of the three methods mentioned in this blog!