Top 4 Ways to Convert WAV to MP3 Efficiently
If you are familiar with the multimedia formats, you must know that among so many audio files, MP3 is the most popular one for storing audio content for decades, and it is regarded as the standard format. There are many advantages of MP3 format, for example, it can store the files with a comparatively smaller size. Also, almost all media players and devices support MP3. So for many people, MP3 would be the first choice to store audio content.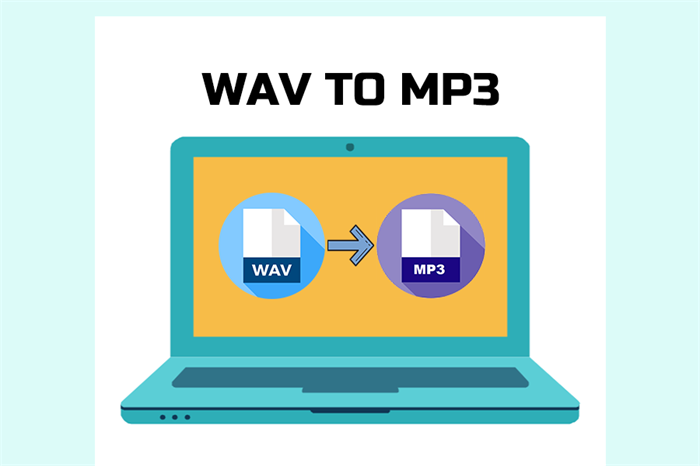 WAV, another audio format, is also widely used today. It can keep the audio content in less compressed quality, so people can enjoy the music or songs with better experience. However, when you find that WAV is not supported on the player you are using now, you must want to convert the format from WAV to MP3. As a result, we list the top 4 ways to assist you do the conversion efficiently. Scroll down and read now.
Part 1. The Most Efficient Way to Convert WAV to MP3 on PC
ConvertAnyVid is one of the most convenient and efficient tool to help people convert the formats of the media files easily, because it supports over 300 formats for free selection. So not only WAV to MP3, you can also choose to convert WAV to other formats as well. An important factor people would consider should be the output quality. ConvertAnyVid guarantees high quality, reaching 1080p HD, 720p HD, and even 4K quality for video, and 320kbps, the highest for audio. You are sure to keep the original and even better quality after the WAV to MP3 conversion is done.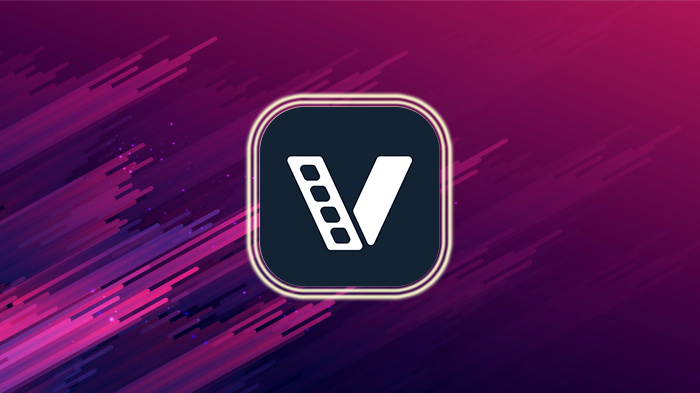 You would not be regretful for using ConvertAnyVid, for the reason that the conversion performance as well as speed of the program are all maintain at the best state. It is surprising that ConvertAnyVid even adds an acceleration mode to its Windows version, so what the users can get is a 6x faster conversion speed! Also, batch conversion helps to save much of your time as well.
Easy Steps to Convert WAV to MP3 with ConvertAnyVid
The steps to convert WAV to MP3 with the help of ConvertAnyVid can be so easy, only if you can follow the tutorial to try once. No complicated process is required. Now just have a look.
STEP 1. Install ConvertAnyVid and Add WAV Files
First, you are required to install ConvertAnyVid to your device from its official product webpage. You can choose the free trial version to experience the process of converting WAV to MP3 with ConvertAnyVid.
After the installation, please launch ConvertAnyVid and add the WAV files you want to convert to MP3 to the interface of the program. You can do this through clicking Add File button in the top left of the interface, or directly drop the files from your computer to its interface.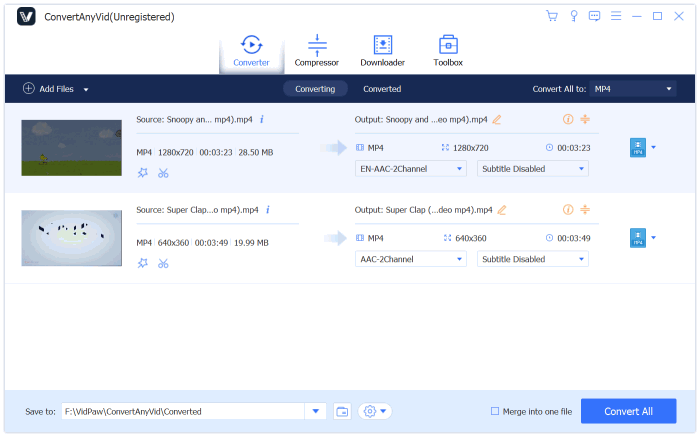 STEP 2. Select MP3 to Be Output Format
Please move to Convert All to section and proceed your format selection step. As there are 300+ output formats provided here, if you find it troublesome to find out MP3 from all these formats, just type it in the search bar in the format list. As ConvertAnyVid shows you the selection, click to select MP3 as your output format.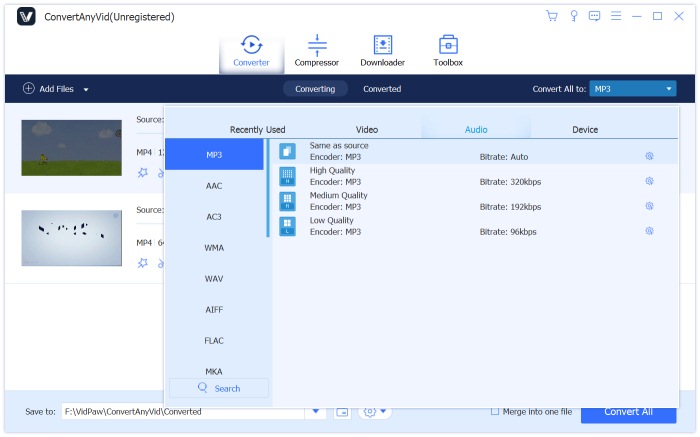 STEP 3. Convert WAV to MP3
Under the workplace area, you can also choose an output folder for saving the outputted files in Save to. Subsequently, only press the Convert All button on the right side and ConvertAnyVid would start to convert all WAV files to MP3 for you. Wait patiently till the conversion is 100% done.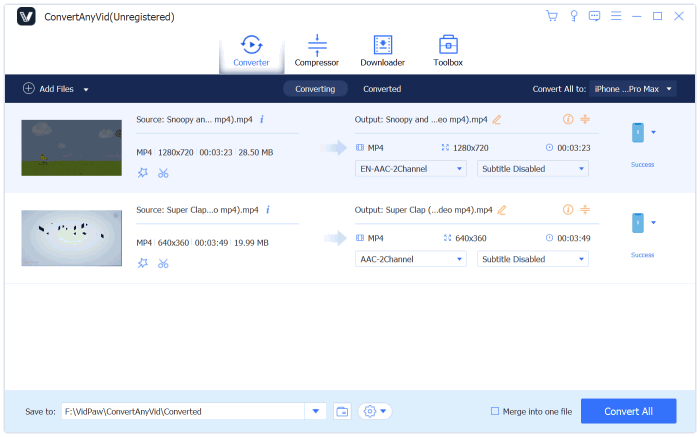 Part 2. Hidden WAV to MP3 Convert Feature in iTunes
If you are a loyal user of Apple product, you must know iTunes, a set of software for Apple products, which can help to backup the data from the device to computer, and also sync some media content such as photos, videos, audios to the portable devices. However, there is a special hidden feature provided by iTunes, that is the format conversion service. Actually, you can directly convert WAV to MP3 with the help of iTunes. Below are the tutorials for Mac and Windows devices separately.
On Mac
STEP 1. On your Mac computer, open the installed iTunes and navigate to Music > Preferences. You can also add the songs to the iTunes Library before starting to convert the files.
STEP 2. After that, please go to Files > Import Settings.
STEP 3. In the Import Settings section, please tap Import Using and select the output format you want to output the file. Here, we need to choose MP3 format. When you select, click OK to submit.
STEP 4. Return back to iTunes Music Library and choose the WAV file you want to convert to MP3. Tick it as preparation.
STEP 5. Now follow File > Convert > Create MP3 Version and iTunes will create one MP3 version of the WAV file next to its original one. Then you can get the MP3 file successfully.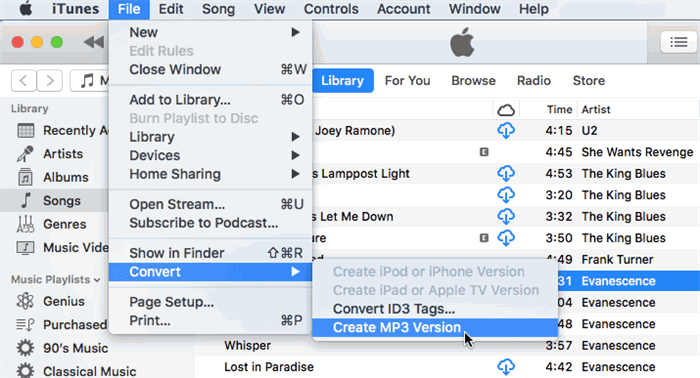 On Windows
STEP 1. On your Windows computer, open iTunes. Like the first step operation on Mac, please go to Edit > Preferences at first.
STEP 2. As you have opened the Preferences window, navigate to General and click Import Settings to choose MP3 as the Import Using format. Then click OK to submit.
STEP 3. Please return to the iTunes Music Library now, and also select the WAV song you want to convert to MP3.
STEP 4. After selecting the files, please click File > Convert > Create MP3 Version to let iTunes create a MP3 version of the WAV file for you. The file will be generated next to the original file.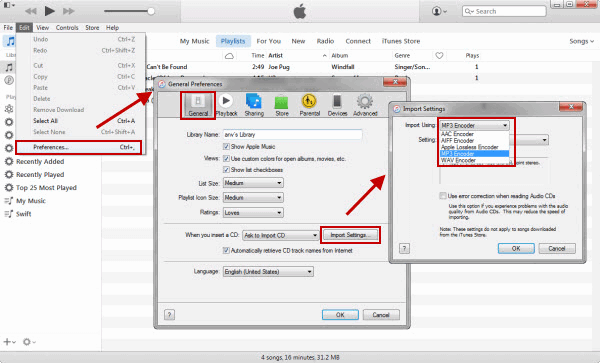 Part 3. Convert WAV to MP3 with Windows Media Player
Other than iTunes, there is another popular media player, which is Windows Media Player, offering the hidden file conversion function that you can make full use of to convert WAV to MP3. The steps are also simple, and the details are listed below.
STEP 1. Launch Windows Media Player on your computer, then drop the WAV file, which you are going to convert it into MP3 format.
STEP 2. On the menu bar of the interface in Windows Media Player, please go to Organize > Options.
STEP 3. Move to Rip Music section. Then in Rip Settings, choose MP3 as the format. Please click Apply then OK to submit the change. Through this, the WAV file can be converted to MP3 successfully.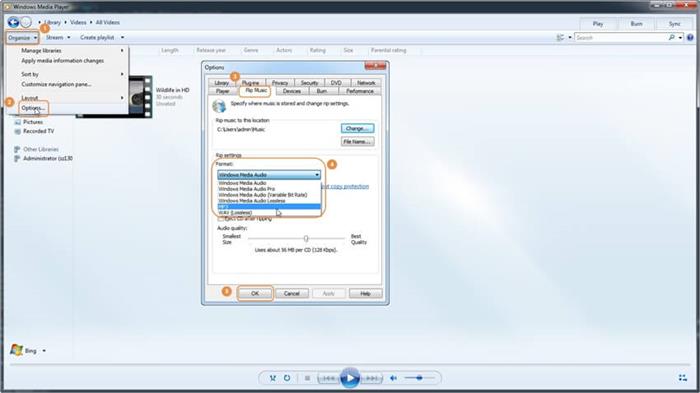 Part 4. Use An Online Open Source to Convert WAV to MP3
Last in the post, a simple method is offered to those who are not reluctant to download and install extra software on their computer. That is to use a reliable online WAV to MP3 converter for getting the file converted. Here Zamzar WAV to MP3 Converter will be recommended.
Zamzar offers speedy, stable, and convenient video/audio conversion service freely. It means that users don't need to pay for any fee to use the conversion service. And the conversion steps are also simple. Follow them below and you can easily convert WAV to MP3.
STEP 1. Go to Zamzar WAV to MP3 Converter in your browser. Then click the obvious green Add Files button on its interface and select the WAV file from your computer.
STEP 2. As Zamzar has automatically select MP3 as the output format for you, you can directly click on Convert Now to start converting the file to MP3 format.
STEP 3. After the conversion is done, just click on the Download button and you can successfully get the MP3 file offline.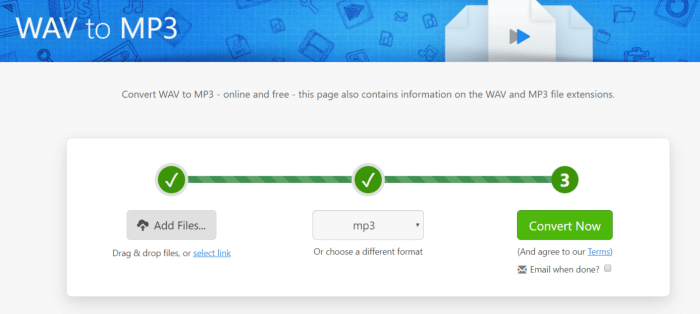 These four methods are all workable to help convert WAV to MP3 format. You only need to choose the one that is convenient for you. If you need, just take any of them to help!
Topics:
Audio Converter
ConvertAnyVid
Excellent

Thanks for your rating.
ConvertAnyVid
View Plan Options