A Free Way to Convert MTS to MP4 Format Easily
If you are saving the video files in some formats that are not commonly seen, the biggest problem would be that the videos sometimes will fail to be played on some devices or players, because it is not supported by them. Today we would talk about MTS format, which is a video format that used to save the media content. While using a MTS format to save the video, some people may meet the following problems: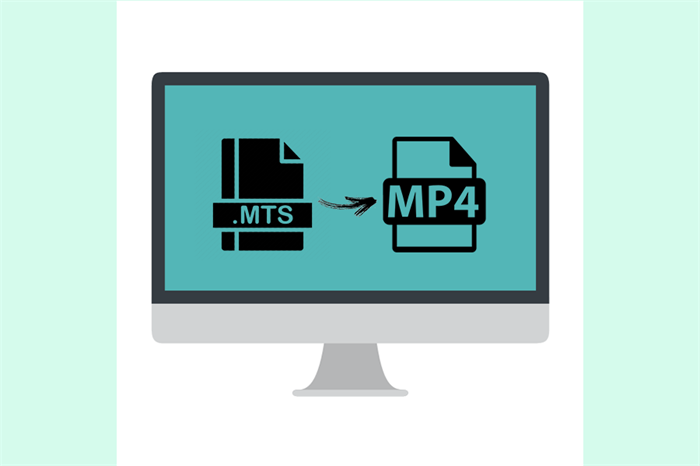 "I fail to play my MTS file on my iPhone 11. Why would this happens and how can I solve it?"
"Are there any way to solve the MTS playback issue happened on my dveice? That is really annoying!"
Actually, as mentioned, the playback problem of MTS videos are more likely resulted from the format incompatibility. Therefore, in today's post, I would like to recommend a free way for you to convert the MTS format to a more popular and standard format, MP4, to solve this kind of problems. Let's read below.
Part 1. What Is MTS Format and What Programs Can Open It?
MTS stands for the video that is saved with a AVCHD format, whose full name is Advanced Video Coding High Definition. As its name goes, the MTS files are always with high definition, because it supports high resolutions like 720p and 1080p, and the videos can also be save using Blu-ray discs, so the original quality of the video can be saved.
The video compression code of MTS is MPEG-4/H.264, which is a commonly used one. In addition, the audio of a MTS file can be saved using a Dolby AC-3 codec, meaning that the quality will also be guaranteed as original. It can be easily noticed that, if you save a AVCHD file on a camcoder, you will see the file extension is .mts. If you have edited the video on PC or just view it in a Blu-ray disc, the extension will be in .m2ts.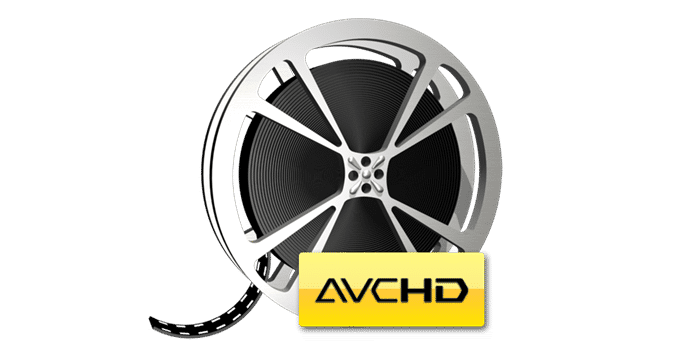 MTS file is originally established by Sony and Panasonic, firstly in 2006. Since then, a majority of Sony and Panasonic HD camcorders will use MTS format as their mainstream formats. In addition, some other devices and players can also support this format, but not so widely if compare to MP4, the standard format of video files. So in the following, if you need, you can learn a free way to convert the MTS file to MP4 easily. Check it now.
[Tips] Programs for Win/Mac to Open MTS File
Windows: Microsoft Windows Media Player, VideoLAN VLC media player, Blender
Mac: Apple Final Cut Pro X, Blender, Roxio Toast 18
Part 2. The Best Free Way to Convert MTS to MP4
ConvertAnyVid will be the best choice for converting MTS to MP4, because it is one of the most popular video converters since ever. Supporting 300+ output formats, ConvertAnyVid can deal with the format conversion easily to help every user get their preferred video format with ease. With an intuitive and user-friendly interface, you are sure to grasp this easy tool without hassle, then just start your journey of format conversion without limitations.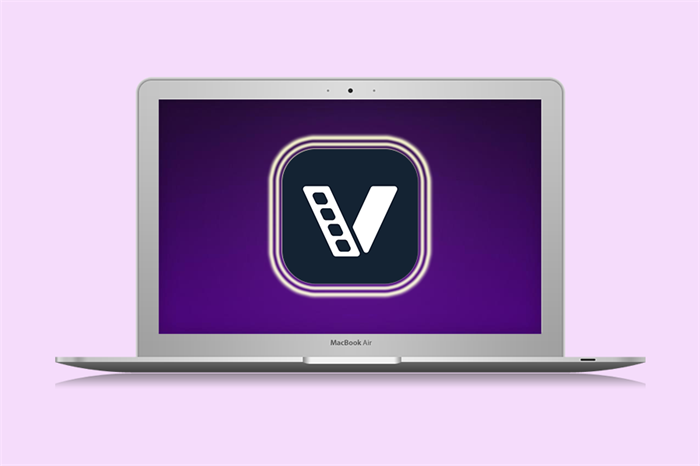 ConvertAnyVid is well compatible with both Windows and Mac users, with the stable in-app performance and fast conversion speed. For Windows users, a surprising feature should be that an acceleration mode is equipped for register users. So you can enjoy the speedy and excellent service brought by ConvertAnyVid.
Other Features of ConvertAnyVid
The high quality video format selections, which can be up to 720p, 1080p, and even 4K.
Free video editing functions are provided such as Clip, Edit, 3D Effect, and Enhance.
Instant preview window to see the current situation of the video/audio.
Snapshot taking function for you to save the moment you like while playing the video.
Part 3. The Easy Steps to Convert MTS to MP4 with ConvertAnyVid
After knowing more about ConvertAnyVid, are you attracted by this powerful, professional, and reliable video converter? If you have made up your mind to make full use of this converter to convert MTS to MP4 or more formats, you can first look through this guidance to see how it works.
STEP 1. Install ConvertAnyVid on PC
First, please go to the product page of ConvertAnyVid on its official website. Making sure that you are downloading the official product. As you are on its site, you can notice both free and register version. We sincerely recommend you to try the free version of ConvertAnyVid at first.
STEP 2. Open ConvertAnyVid and Import MTS File
After installing ConvertAnyVid, please launch the program and go to its interface on your computer. Now it's time for you to import the MTS file you want to convert to ConvertAnyVid. Click on the Add File button in the top left corner and you can browse to choose the file, then click OK to add it. Also, you are available to drag the file to the interface of ConvertAnyVid for importing easily.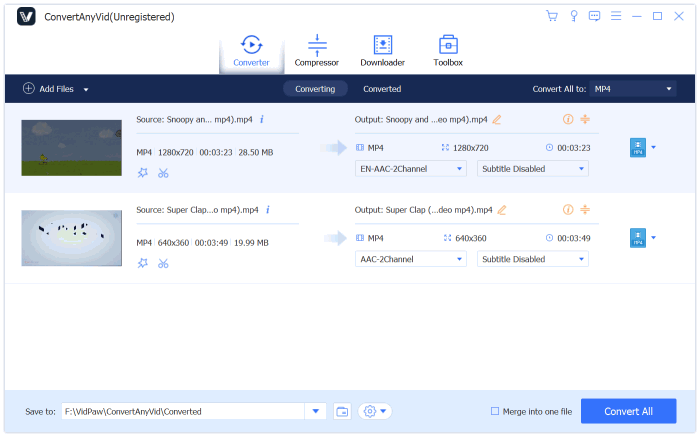 STEP 3. Select Output Format in Profile
After importing the MTS file to ConvertAnyVid, as you can see, the editing buttons are provided on top of ConvertAnyVid such as Clip, Edit, Watermark, Enhance for editing the video. If you have edited the video to be your wanted one, now move to Convert All to in the top right of the interface and drop down the format menu to choose an output format. You can easily find MP4 format. After clicking it, you can go to the final step.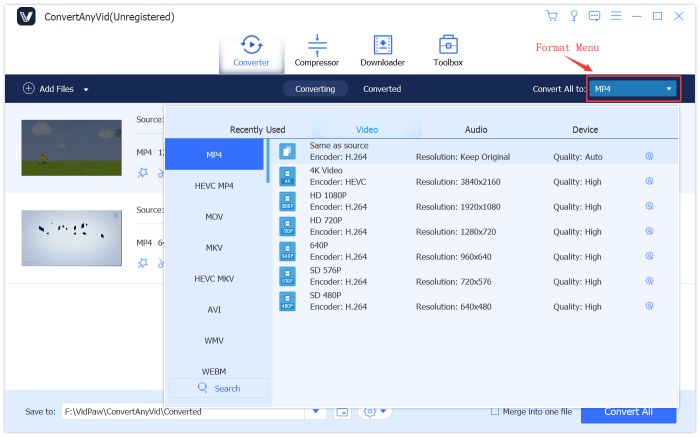 STEP 4. Convert MTS to MP4
Before the conversion begin, you can manually select an output folder on computer to save the converted MTS file. Under the workplace, you can notice a Save to section, in which you can browse and select the folder. And finally, you can click the Convert All button to start the conversion, and the MTS video will be converted into MP4 format.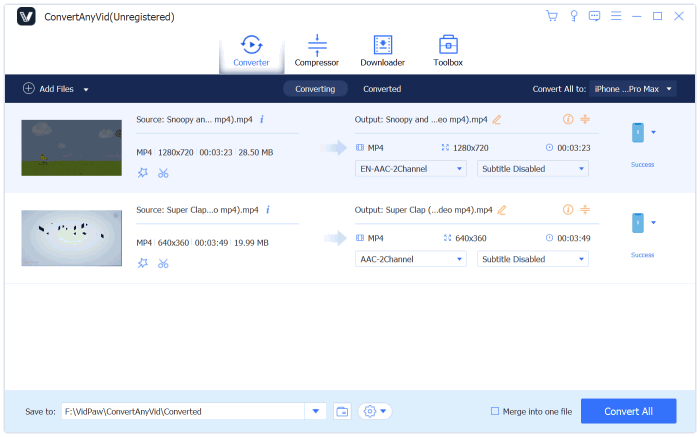 With ConvertAnyVid, your video will be more flexible, because you can easily convert the video to the format you need freely, therefore, the video can be played on more device and media players. Use it when you need!
Topics:
Video Converter
ConvertAnyVid
Excellent

Thanks for your rating.
ConvertAnyVid
View Plan Options