3 Solutions to Convert iMovie to MP4 Format on MacOS
Do you know what format will your video be stored after editing it in iMovie program on iOS device? Commonly, the iMovie project would be exported to MOV file, which is a high quality format for storing video and audio data. However, a problem is that this format is not so popular, which means that it is not supported by all devices and media players.

Therefore, there must be some situations that you need to convert the iMovie video to other more widely-supported format such as MP4, which is the standard format among all of the video formats. For people who need, we are going to offer 3 easy solutions to deal with this issue. Check them below!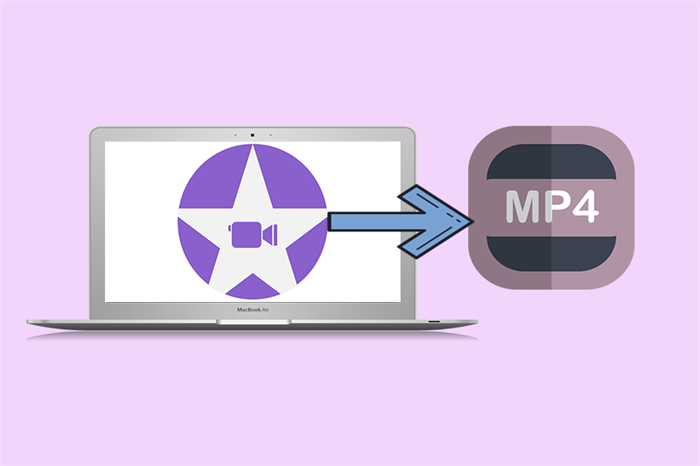 Solution 1. Export iMovie as MP4 File in iMovie Directly
Having thought about users may have the need to use the iMovie video in other formats, so actually, iMovie has provided the service to let users store the video in MP4 format and then export. You only need simple steps to get the MP4 video from iMovie.
STEP 1. Share Video File in iMovie
Open iMovie on your Mac, and go to the iMovie Library to find the video that you want to output as MP4 format. Select the video by clicking on it. Then movie to the tool bar on top, and click "File" >> "Share" >> "File...".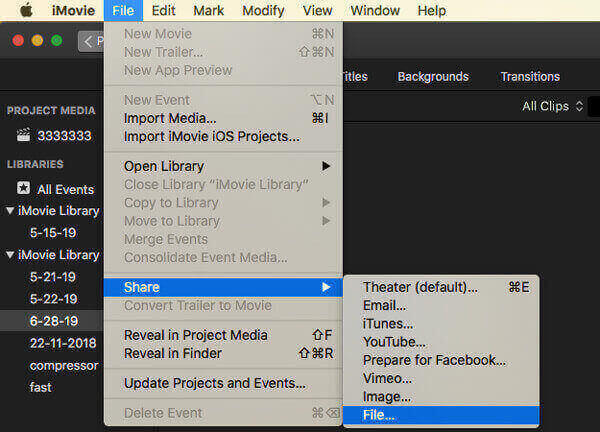 STEP 2. Edit the Information of the Video
After clicking on "File...", a window will pop up and allow you to preview the information of the video. You are able to edit these information one by one, such as the Description, Format, Resolution, Quality and Compress.
The secret for converting the iMovie video to MP4 is that if you choose the quality option as "Best (ProRes)", the output format will be MOV. So just avoid this option and you can output the video to MP4.
STEP 3. Save iMovie to MP4
Finally, after editing the iMovie video information and choose the quality, remember to select from "Low", "Medium", "High" or "Custom", and don't select "Best (ProRes)". Then click the "Next" icon to export the iMovie to MP4 format to your Mac computer.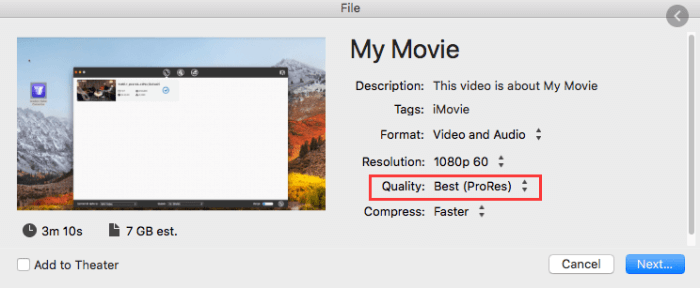 Solution 2. Convert iMovie Project to MP4 with QuickTime
If you have outputted the iMovie project to MOV format on Mac, you can try to convert the whole video file to MP4 with another powerful Mac program, which is called QuickTime. It is the official player of Mac device, but actually, it hides the feature to convert the local iMovie video to MP4 format. How?
STEP 1. Import iMovie to QuickTime
First you need to open QuickTime on your Mac. Because QuickTime is an installed program of Mac system, so you don't need to waste other time to search for and install the program. Then from your device, find the iMovie project and click the share button, then select to open it using QuickTime.

STEP 2. Set the iMovie Video
Then a dialog box will be opened, and here you are able to set some information for the iMovie video, including title, description, output quality, etc. After this step, just add the video to your movie theater and prepare for editing.

STEP 3. Save iMovie Video in MP4
After the last editing step, you just need to keep going by clicking "Export" in "File". Then in another pop up box, you should enter a name in the "Save As" blank. It will save the video with default information if you set nothing.
Finally, just hit the save button to get the MP4 video from QuickTime. You will get a "Share Successful" notification when your computer successfully store the video.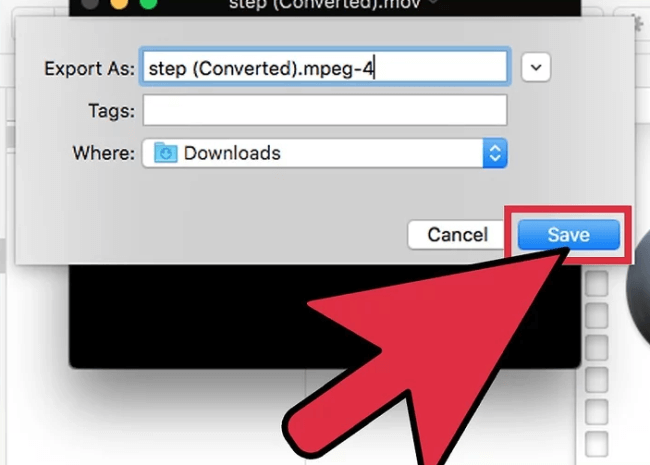 Solution 3. Convert iMovie to MP4 with ConvertAnyVid on MacOs
ConvertAnyVid another way you can try to convert local iMovie video to MP4 on macOS devices. This program has owned the following features:
1. 200+ output formats supported
ConvertAnyVid supports many common formats and are totally free for users to select for storing their converted videos, including AVI, MKV, MOV, MP4, MP3, WMV, WebM, M4V and FLV, etc.
2. High quality and fast conversion speed
ConvertAnyVid provides high quality video conversion. Those high resolutions such as 4K, 1080p HD, 720p HD, etc. are all free for selecting. For audio, the bitrate is also up to your choice, which is raging from 32kbps to 10 times higher in the highest 320kbps. But as ConvertAnyVid has an acceleration mode, the conversion speed can reach 50x faster, so it won't cost you much time.
3. Free video editing tools provided
ConvertAnyVid also contains some easy tools for people to instantly edit the videos before starting the conversion. For example, add the filters, trim or crop the video, add watermark, etc.
4. More tools are free for using
In addition to video converter, there are 4 more tools that are provided in ConvertAnyVid for free using, including DVD/Blue-ray Ripper, Media Metadata Editor, Video Compressor, and GIF Maker.
But pay attention that you are not using the system that is too old to be compatible with ConverAnyVID. Then in the next, let's see how to convert iMovie to MP4 on Mac with ConvertAnyVid in 3 steps.
STEP 1. Download and Install ConvertAnyVid
Firstly, take a few moments to download and install ConvertAnyVid to your device from VidPaw official site. Both free and paid versions are served, so just choose what you need. We recommend to try the free one at first because you can see whether this program can actually fit your needs. And remember to choose Mac version.
STEP 2. Import iMovie to ConvertAnyVid
After installing the software, you should open it and you will be on the video converter interface. There is an "Add File" button in the top left corner. When you click on it, a window will pop up and you can browse the Mac to add the iMovie video into ConvertAnyVid.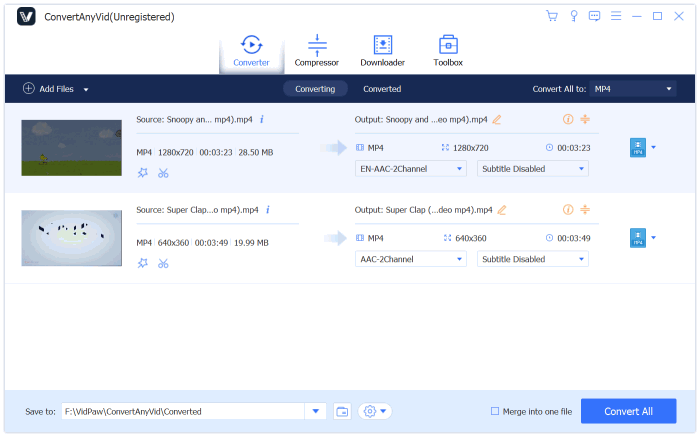 STEP 3. Choose MP4 As Output Format
Under the main feed, there is a "Profile" section. Here you can drop down the list and choose MP4 as your output format. Also, you can click "Settings" to customize the video, and go to "Destination" to select an output folder for saving the converted iMovie video.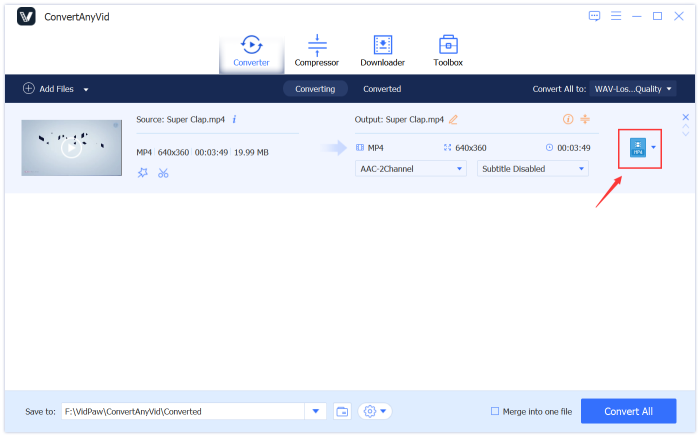 STEP 4. Convert iMovie to MP4
Finally, if you have went through all the settings above, only press the "Convert" button and you can easily convert the iMovie video to MP4 format. You can choose the "Shut down after conversion done" function if it takes too long to convert the file, and it will automatically turn off the computer after finishing conversion.
These three ways are all you can try to convert the iMovie to MP3 on Mac without hassle. So in the future, if you find that the iMovie video can not be played, you can just try any of them to convert the video to MP4 easily. Give it a try now.
Topics:
Audio Converter
Video Converter
ConvertAnyVid
Excellent

Thanks for your rating.
ConvertAnyVid
View Plan Options