Ultimate Solution to Convert AVI to MP4 Losslessly
When you are getting a video file that is encoded by .avi format, you may fail to play it in some installed media players on the device. Why? In most cases, it is probably that the media player you are using now doesn't support AVI format. Instead, a MP4 format is more commonly used, and it is almost the standard among all video formats.

Many people may have troubles when they fail to play the AVI video files and want to convert them into MP4 format, letting them be compatible with more media players, so that people can have more convenient playback experience. Now you are in the right place. Below in this blog, the ways on how to convert AVI to MP4 format will be introduced to you. Scroll down and read them now!
Part 1. What Is AVI Format?
AVI is a video format, which is based on RIFF (short for Resource Interchange File Format), used for storing media content. AVI was firstly developed by Microsoft company in 1992. Originally, AVI is developed for Windows devices as a standard format.
By comparison, the size for AVI format is relatively larger because its quality is better and less compressed normally. Why? That's because AVI can also be created without being compressed at all. So this keeps the video files in its original quality without losing much. Therefore, saving the video files in AVI format means that you can have a better video streaming experience.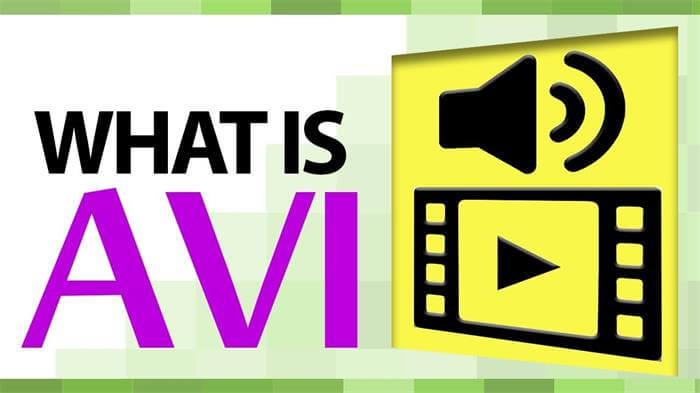 Although AVI format is good, the fact is that it may not be supported by some media players or devices. If you need to convert AVI format to MP4 for playing on a media player that doesn't support AVI, keep reading now.
Part 2. Convert AVI to MP4 Format Online Within Simple Clicks
Here is the first method to convert AVI to MP4 format - using a free converter online - Online Video Converter.
Online Video Converter is an open source online video converter, which provides free video converting and downloading services to users, and it requires no fee at all. It supports multiple formats, including MP3, AAC, OGG, WMA, M4A, FLAC, WAV, MP4, AVI, MPG, MOV, WMV, MKV, M4V, WEBM, FLV, and 3GP. You don't need to download software before converting video to the format you want. Only open the platform, select a file, choose the format, and submit convert, you can get the converted file in a short time.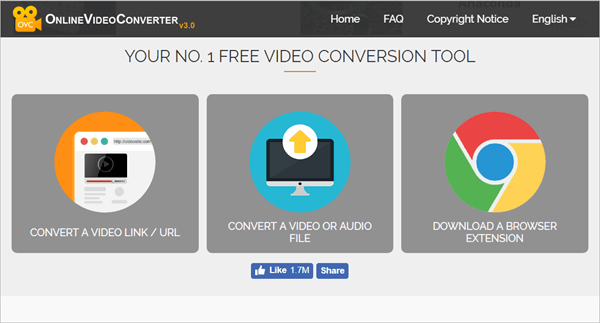 Let's simply see how to convert AVI to MP4 using Online Video Converter now.
STEP 1. Go to Online Video Converter Site and Add File
At first, open Online Video Converter in your browser if you have add it to your favorite site, or you can directly click on the hyperlink above to go to the platform.
When you navigate to the site, and the conversion box in the middle is loaded, you can click on the orange Select or Drop File button set there to select file for importing to Online Video Converter. You can also drop the file to the box here directly.

STEP 2. Select Output Format
When the AVI file is added to Online Video Converter, it will analyze and convert it automatically. After the conversion is done, you will be turned to a new interface, where you need to select an output format for the video. Drop the list and choose .mp4.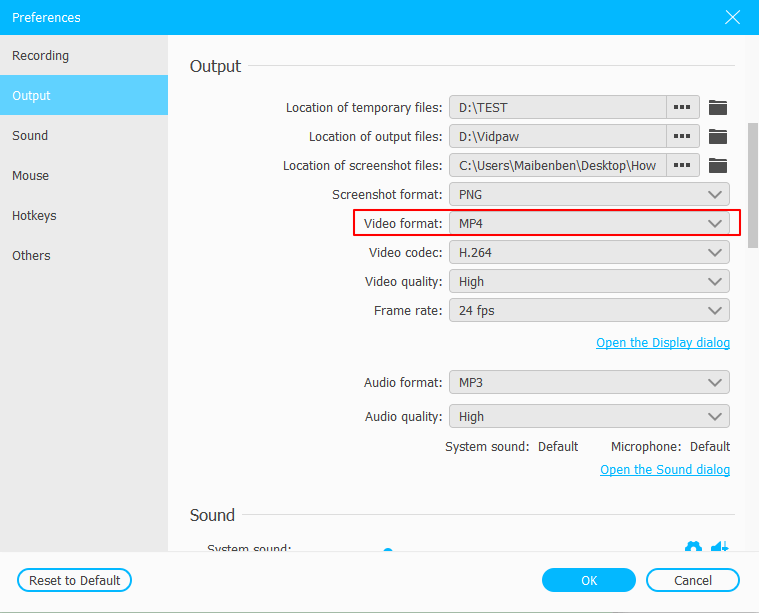 STEP 3. Convert AVI to MP4
After choosing MP4 as the output format, please click on Start directly to start the conversion for turning the AVI file to MP4. When Online Video Converter ends the conversion, you can save the converted MP4 video to your device by clicking on the Download button. You can also use your mobile phone to scan the QR to download it on phone instead.

[Recommend] Convert AVI to MP4 Format Losslessly with 6X Faster Speed
If you have tried the conversion service of Online Video Converter, you may find that the conversion process really depends on a good network condition, and the time for converting as well as downloading the converted file may be slow sometimes. Are there any other efficient way that we can use to convert AVI t oMP4 quickly?
ConvertAnyVid is the right choice for you if you want a faster conversion speed. As a professional and well-performed video converter, ConvertAnyVid has user-friendly functions, fluent in-app interaction, and speedy conversion as well as download speed. But what are the differences between ConvertAnyVid and Online Video Converter?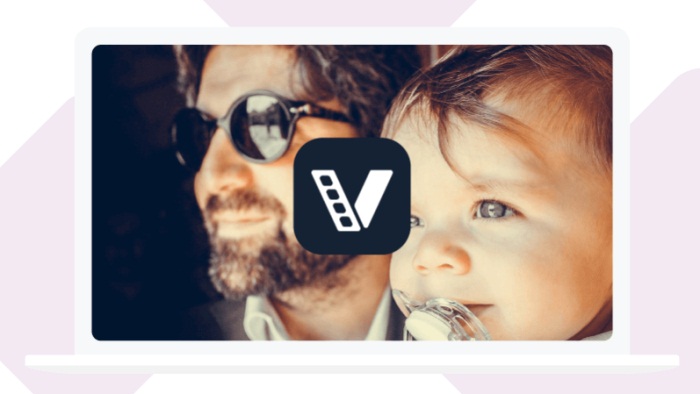 Pros of ConvertAnyVid
1. Comparing to Online Video Converter, ConvertAnyVid has no ads, which means that it has a securer and tidier user interface.
2. ConvertAnyVid has internal CPU acceleration setting, which can enable up to 6X faster conversion speed.
3. ConvertAnyVid supports batch conversion, and at the same time, with quick speed.
4. Support over 300+ input as well as output formats, so users can get the video files with their preferred formats with ease.
Now let's also pay attention to the simple steps you should take to use ConvertAnyVid to convert AVI to MP4.
How to Convert AVI to MP4 with ConvertAnyVid
STEP 1. Download and Install ConvertAnyVid
You can download ConvertAnyVid from the official website. There are two versions of ConvertAnyVid - Win and Mac. According to your computer, choose the version. Also, you can select whether to purchase ConvertAnyVid or not because both free and paid version are available. If you just have a short video clip need to convert from AVI to MP4, you can experience the free one at first.
STEP 2. Import AVI Video to ConvertAnyVid
When you get the ConvertAnyVid installed on your computer, open the program and you will be in its video converter interface. Now please drag the AVI video you want to convert to MP4 to the interface of ConvertAnyVid video converter directly.
It is also available for you to click on Add File option in the top left corner of the interface to browse your computer and choose files to add. After selecting the file, it will be loaded in the converter automatically.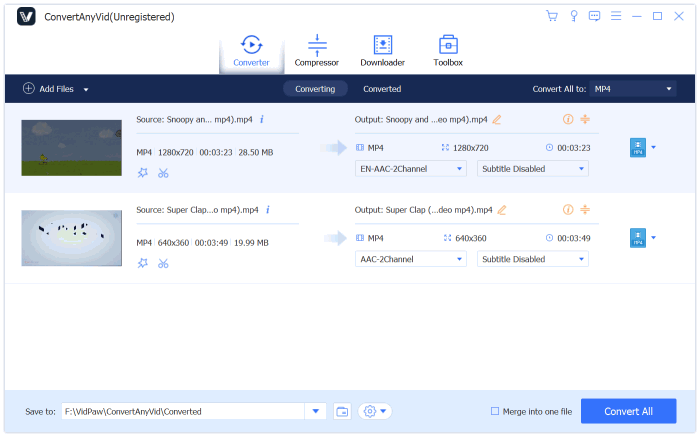 STEP 3. Select MP4 as Output Format
Then in Convert All to section, choose MP4. Except for MP4, there are other 300+ formats that ConvertAnyVid provides, so just browse the menu and find out MP4 there.
You will find that there are several options provided as MP4 format but with different quality. So you can freely select the one you like, and click to choose it. After selecting, you can also click Settings to do other output settings for the video.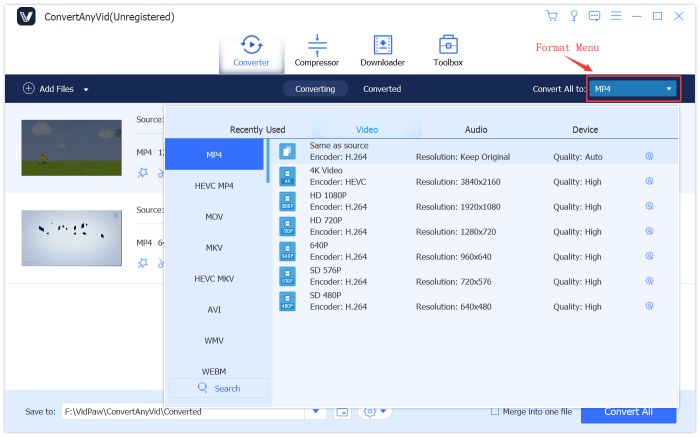 STEP 4. Convert AVI to MP4
It is also available for you to browse the computer and choose a path for saving the converted video through Save to below the workplace. Finally, just click on the Convert All button in the lower right corner and ConvertAnyVid will start converting AVI to MP4 format for you.
After the conversion is done, you can launch the output folder for checking the converted video in ConvertAnyVid. Then you are free to use the MP4 video as you need.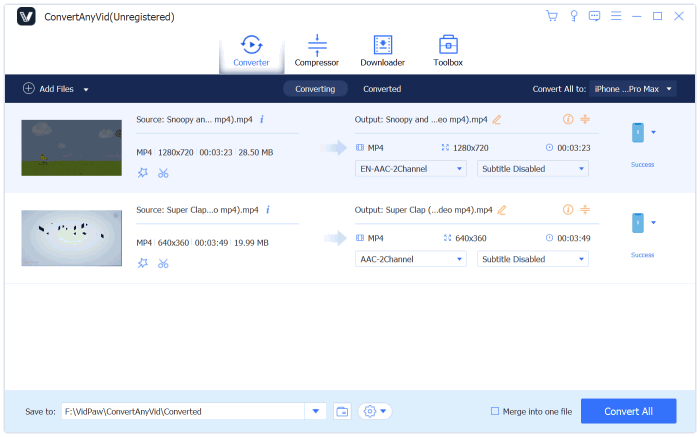 If you need other formats for encoding the videos you own, remember ConvertAnyVid will always stand here to serve you with its excellent performance. I would recommend you to purchase ConvertAnyVid so that all the limitations will be removed. For example, you can use the batch conversion function, have no limits in using all the tools provided, etc. ConvertAnyVid is just everything you need to have a convenient video streaming experience!
Excellent

Thanks for your rating.
ConvertAnyVid
View Plan Options