[Solved] How Can I Download YouTube Subtitles/Closed Caption Online for Free
May 11, 2020
Some of the YouTube videos include subtitles for people, especially who is not the native speaker of the video one is watching. Somehow you may need to download YouTube subtitle files for some reasons, but how? Especially, when you are streaming movies on YouTube.

Understanding the whole movie while watching is essential for audiences to get some details of the story plot, especially those science fiction movies. However, for people who don't understand the language of the characters speaking, or they are talking with a quick speed and local accents, the annoying fact of this can be that they would fail to get addressed.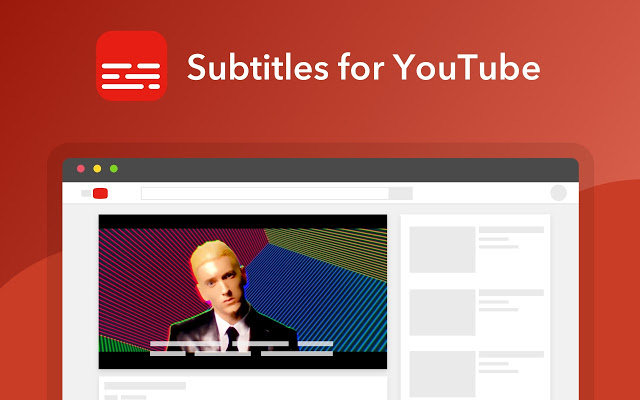 Have you also experienced this embarrassing situation when all the people sit around you laughing but you can't get the laughing point because you can't understand the language well? Getting back home, some people may also want to watch the movies online with the translated subtitles and closed caption. Today, this blog must be able to help you a lot - the best tool for you to download YouTube videos with subtitle/closed caption - VideoHunter Subtitle Downloader.
Way 1. YouTube Subtitle Downloader for Windows/Mac
This is easy with VideoHunter - a professional video downloader - supporting to download subtitles from YouTube as well. This VideoHunter allows users to download videos in HD MP4 & MP3 from any sites including YouTube, Instagram, Facebook, Twitter, and so on.

Better yet, VideoHunter also works as Subtitle Downloader for YouTube, helping users grasp subtitles from YouTube in SRT file format. You are able to download subtitle with simple clicks. For more details, check out the following instruction.
STEP 1. Download and Install VideoHunter
VideoHunter is fully compatible with Windows PC running Windows 10, 7, 8, XP as well as MacBook Air/MacBook Pro/iMac running macOS 10.12 and later. Please install it first to get started.

STEP 2. Copy the YouTube Link
Now, please go to visit YouTube video from which you want to download subtitle file, and then copy the link to the search bar of VideoHunter. Click 'Download' to start analyzing.

STEP 3. Download YouTube Subtitle to Desktop
After that, a prompt for download options will pop up as the following screenshot. Now, you can select the option under 'Download Subtitles' part and choose the desired language that you want.
Note that it cannot download subtitle files if the original video doesn't include a seperate subtitle file.
Also, if you want to looking for a way to download YouTube without software, let's move on.
Way 2. Best YouTube Subtitle Downloader Online
If you want to download free movies from YouTube with subtitle or closed caption so that you can stream the movies offline and understand the story clearly, you need the help of other powerful online tool. Although YouTube provides some free movies with subtitles/closed caption for online streaming, there has no download icon set for people to free download them if they can't finish watching at once. That's why VidPaw is here.

Other than the most professional online video downloader, VidPaw also provides many exceptional functions for people to enjoy the online videos better. Online Subtitle Downloader is a subproduct of the website, which can smartly detect the subtitles or closed caption from the YouTube videos, and download the whole videos with subtitles to HD quality.
NOTE: Please pay attention to that the YouTube videos which is embedded with original subtitles can't be downloaded. You can only download the subtitle/closed caption files which are uploaded by the YouTubers manually, or those are generated automatically by YouTube.
Acting like its main page, VidPaw Subtitle Downloader is also clean and safe for usage. You would not find any pop-up ads or be required to download other bundled malware for using this function. The download process of VidPaw Subtitle Download is also simple. You can get the detailed guidance in the next part to know how to download YouTube movies with subtitle/closed caption online here.
STEP 1. Copy URL of YouTube Movie
On YouTube, type the name of the movie you want to download with subtitle or closed caption, press Enter and you will get lots of searching results. Select the one from these results and enter the video page of the YouTube movie. Then give a right click on the address bar and copy the URL of the video.
STEP 2. Paste the YouTube Movie URL to VidPaw Subtitle Downloader
Now you should go to VidPaw Subtitle Downloader to paste the YouTube movie URL to its frame bar. If you navigate to VidPaw main page directly, scroll down the page to the bottom and you will find the Subtitle Downloader. After pasting the URL, click on "Download" to let VidPaw analyze the URL for you.


STEP 3. Download YouTube Movie with Subtitle/Closed Caption
Wait for seconds and you can get the list of various output selections for free choosing for the YouTube movie you are going to download with subtitle or closed caption. Choose your favorite format and quality, then hit "Download" icon to save the video on your PC right away.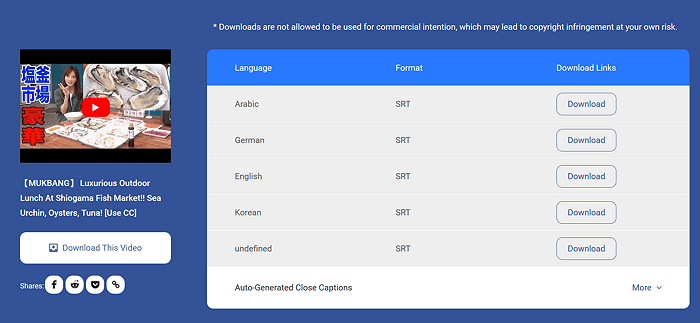 Comparison - What's the Diference Between Way 1 and 2
If you have trouble deciding which way is going to help you out. Why not try both? Also, let's take a look at the comparison between way 1 and way 2, and see whether it can give you a clue.


Online Subtitle Downloader
VideoHunter
Advantages
1. Free to use.
2. Convenient without installation.
3. Compatible to all devices.
1. Professional video & subtitle downloader.
2. Super fast to download online videos.
3. Stable and easy to use.
4. Free technical support and updates.
5. Supports 1,000+ sites.
Disadvantages
1. Only supports to download subtitles.
2. Cannot download HD videos.
3. Unstable to use.
1. Paid software starting at $19.95.
2. Support Windows desktop and Mac.
When you have learned the ways to download YouTube movies with subtitle or closed caption, you will not worry about that you can't understand the language of the movies and fail to get what it is talking about. VidPaw Subtitle Downloader is such a powerful tool to help you with this. What are you waiting for? Download the foreign movies with subtitles for watching offline now!
Excellent

Thanks for your rating.