What is MP4? This simple question stammers people sometimes. In short, MP4 (MPEG-4 Part 14) is one of the most common video format, which usually used to store video and audio as well as subtitles and still images. MP4 is well-compatible with almost every device, software, and media player.

As usual, people prefer to download online videos to MP4 format from popular video streaming sites like YouTube, Vimeo, Flikr, Dailymotion, Vevo, and so on. Some sites prohibit downloading videos directly. That's why VidPaw Free Online Video Downloader is here to help you. With VidPaw, it's easy to download HD online videos in MP4. If you want to download YouTube to MP4, just don't miss it.

Recommendation: Free Video Converter, which helps you to convert videos to MP4, MP3, MOV, AVI, MKV, FLV and 300+ formats without lossing quality.
Part 1. What Is VidPaw Free Online Video Downloader?
VidPaw is a 100% secure Online Video Downloader, offering professional and free service for users to download online videos with ease. More than 1,000 sites are supported such as YouTube, Facebook, Twitter, and so on. You can click HERE to get the full list. Moreover, it supports various video quality - 144p, 240p, 360p, 720p, 1080p, 1440p, 2K, 4K, 8K, and output format - MP4, 3GP, WEBM. All settings are based on your preference. Additionally, VidPaw also has the ability to download audio file, saved in M4A, MP3 or WEBM, and closed caption, saved in SRT format.


You can also take VidPaw as a Video Converter to MP4, you can easily download online videos in MP4 format, audio, subtitle/closed caption, playlists and so forth. Let's move to next part to learn about the detailed operations.
Part 2. How to Download Online Videos to MP4 from YouTube, Vimeo···
To download MP4 video online, you must need some reliable ways. Fortunately, there are 3 ways listed in this part so that you definitely can find the most suitable one to make it.
Way 1. Download Video Online in MP4 Format
This tutorial is applicable for both of Mac/Windows and Android device. If you want to download video online in MP4 format, please move below to get the suitable solution.

STEP 1. Play a video online from any site such as YouTube, Facebook, Vimeo, Instagram, WhatsApp and so on .
STEP 2. Copy the video link.
If you are using application on Android device, you can tap the "Share" icon to get the link.
STEP 3. Go to VidPaw.com on browser, Chrome/Safari/Firefox/IE.
STEP 4. Paste video link on the search bar.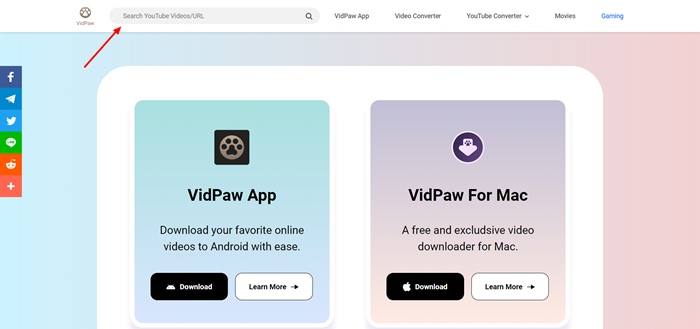 STEP 5. Choose your favorite video quality and MP4 format, and then, tap "Download".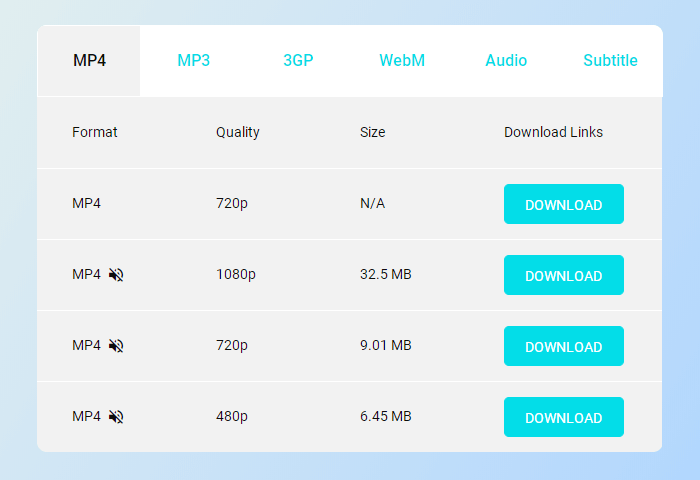 Download Video Online in MP4 Format on iPhone/ iPad

Compared by the operation on Windows/Mac and Android device, it's slightly different on iPhone/iPad because you need to download a third-party application in advance.

STEP 1. Download "Documents", serving as a file manager.
STEP 2. Copy video link from any site.
STEP 3. Launch Documents and move to its built-in browser.
STEP 4. Go to VidPaw.com.
STEP 5. Paste video link on the text box.
STEP 6. Choose your favorite video quality and MP4 format, and then, tap "Download".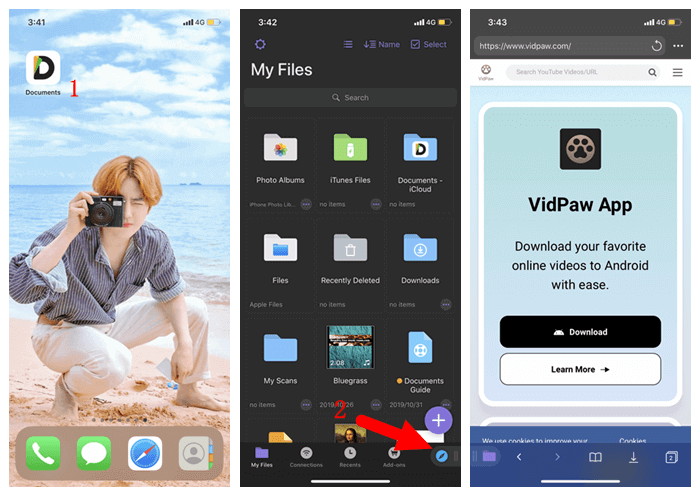 After a while, you can watch MP4 video on "Downloads" folder in Documents. Besides, you might be wondering how to save it on Camera Roll. You can:


Open "Downloads" folder and tap "Edit" .
Select the video > tap "Move".
Move to Camera Roll.
Way 2. Quick Trick (Only for YouTube Users)
STEP 1. Open a video online from YouTube.
STEP 2. On the video address, type "paw" after "youtube".
STEP 3. Hit "Enter" key to go to VidPaw.
STEP 4. Choose video quality (720 recommended) and MP4 format > click "Download" button.



Way 3. Download Video Online in MP4 Format With Extension on Computer
It's much easier to download video online with extension on Windows/Mac. VidPaw is compatible with most of browsers like Chrome, Safari, Firefox, etc.

STEP 1. Download the Tampermonkey extension > add VidPaw extension to Chrome/Firefox.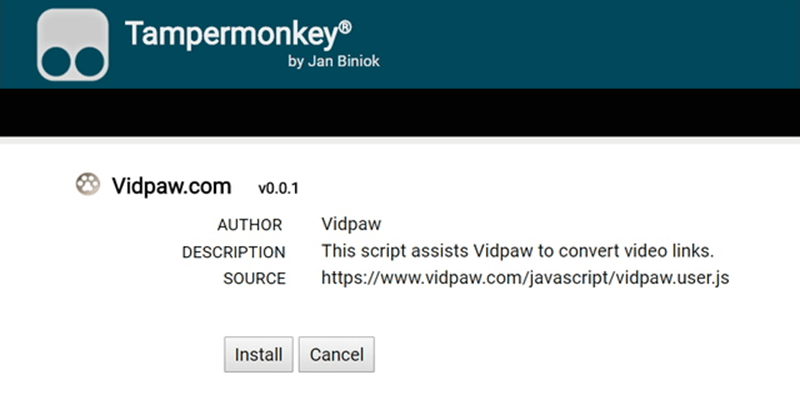 STEP 2. Open the target online video. Then, you can see a VidPaw icon under the video.
STEP 3. Click VidPaw icon to start downloading music video online in MP4 Format.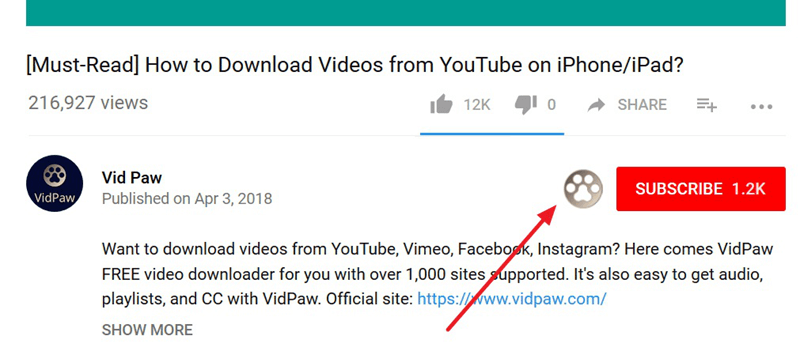 Being as an online MP4 video downloader, VidPaw can do the excellent job for you. If you are looking for a way to download video online in MP4, why not go to VidPaw and have a try?
Video Tutorial: Use VidPaw to Download Videos in MP4
VidPaw YouTube Downloader makes it easy for users to download YouTube videos in MP4 and convert embeded videos to MP4 (if from YouTube source).

If you're a video lover, you may possibly like to watch a video tutorial rather than written words. Here's a video tutorial on How to Use VidPaw Free YouTube Downloader?
VidPaw works to download YouTube, Vimeo, Dailymotion, and over 1,000 others to MP4 with high quality. To download YouTube to MP4 is always a cinch. Moreover, if you want to download YouTube subtitles as SRT files, you should give it a go.

If you like VidPaw, please feel free to share it with your friends!




Published on June 07, 2018