[Tips] How to Download Ringtones for iPhones
August 20, 2020
People try to make themselves more unique, not only in the ways they live but also in many small details in daily life. For example, setting a special ringtone for the mobile phones can make your call ringing to be more outstanding to recognize. When you newly brought an iPhone (such as the iPhone 11 or iPhone 11 Pro), you must want to set a unique ringtone for it.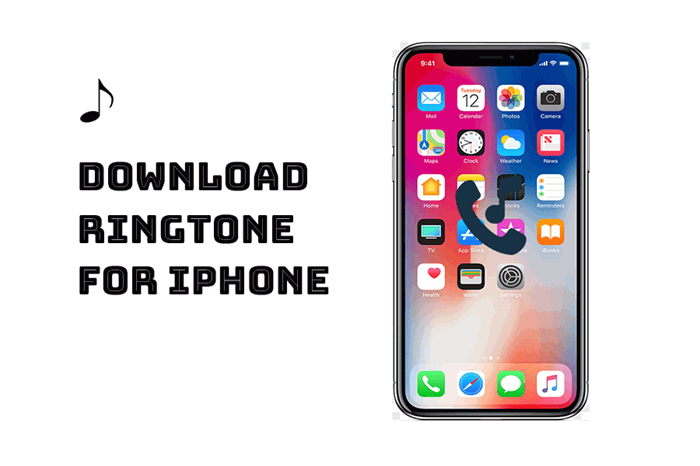 But glancing at the ringtone library provided by iPhone, it seems that they are pretty commonly-used. Also, it feels like that there is no way to add some personal audio files to set as the ringtones, because no such function is available in iPhone's "Settings". So how can iPhone users download ringtones and apply on the device? Don't worry. This blog will offer you the ultimate guide on download ringtones for iPhones. Let's head down and read now!
Solution 1. Download Free iPhone Ringtones Online
At first, before adding the ringtones to iPhone, you need to get the audio files of the ones you want to set as your iPhone ringtones. To download those you like from the Internet, you can take advantage of a powerful online video downloader, which is called VidPaw Online Video Downloader.
VidPaw Online Video Downloader
has the super power that allows users to download videos from 1,000+ supported sites with great quality. This platform is completely free to use, and neither virus nor malware will have a negative impact on the health of your device. So you can use VidPaw Online Video Downloader to download any online video/audio as the iPhone ringtones safely and freely.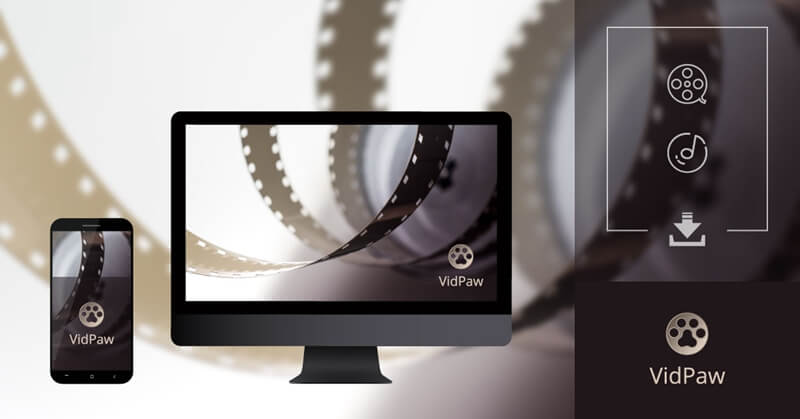 This amazing online video downloader can save the video/audio in different formats such as MP3, MP4, M4A, WEBM, and 3GP with different quality. For video, the highest 720p can be selected, and for audio, 320kbps is available. Therefore, you can download the online video/audio and make it as your iPhone ringtones in high quality.
Here is the way on using VidPaw Online Video Downloader to download free ringtones online.
STEP 1. Go to the online platform like YouTube, Facebook, etc. and search for the video soundtrack or song you want to make as your iPhone ringtone. When you discover the one you prefer, copy the URL of it.
STEP 2. Open a new tab and turn the page to VidPaw Online Video Downloader. When you reach there, paste the URL of the online video/audio to the frame bar, and hit the icon of "Download" to make VidPaw analyze the URL for you.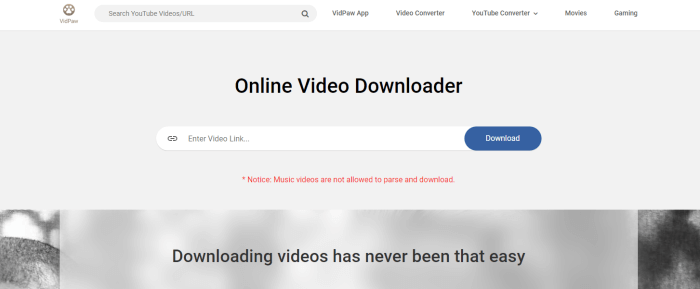 STEP 3. Just wait for a while and VidPaw will convert the online video/audio for you successfully. As the video information shows up, various output choices are also available for you to select to download the video/audio. Just press the "Download" button and get it offline.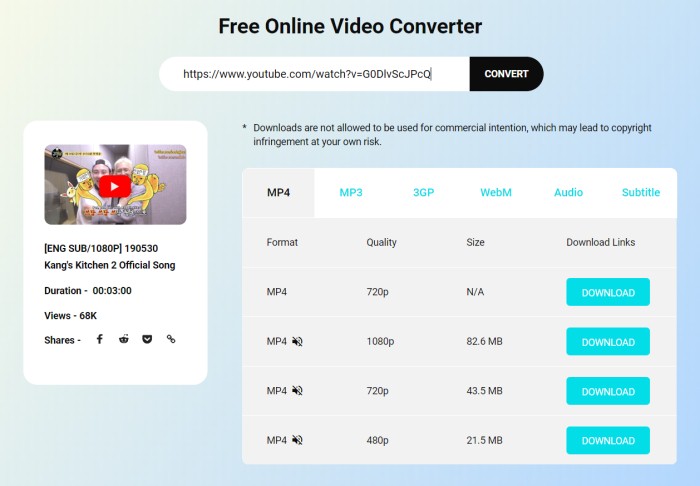 [Tips] Download Ringtones in High Quality with VideoHunter
If you are not satisfied with the quality that VidPaw Online Video Downloader and is pursuing a higher one for making the best-quality ringtone for iPhone, you should really give VideoHunter a choice.
VideoHunter
is a newly-released but amazing product developed VidPaw, which has offered excellent video/audio downloading services to hundreds of users. VideoHunter is widely selected as the best video downloader since its launch for a couple of reasons, which include the following facts: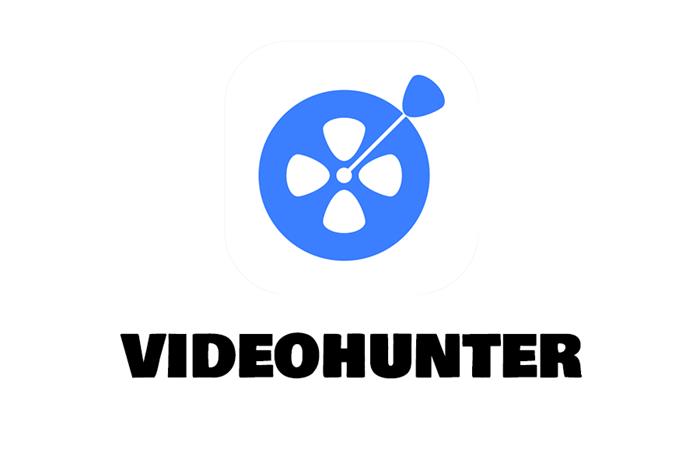 * Support to download online videos from more than 1,000 video sites, including YouTube, Facebook, Twitter, Instagram, Dailymotion, Tumblr, Bilibili, etc.;
* Offer different formats to download online videos such as MP4, MP3, and WEBM;
* For users who want to stream the video/audio in more formats, a video converter (only on Mac now) offers 20+ different formats for selecting;
* Avail 2X faster converting and downloading speed;
* Batch download is supported, so people are allowed to download more than 2 videos at the same time.
After getting familiar with VideoHunter, let's see how to use it to download your wanted ringtones from online platforms offline.

STEP 1. In the first step, you should get VideoHunter download on your computer. VideoHunter offers a 15-day free trial to all users, so you can freely download and experience its functions at first.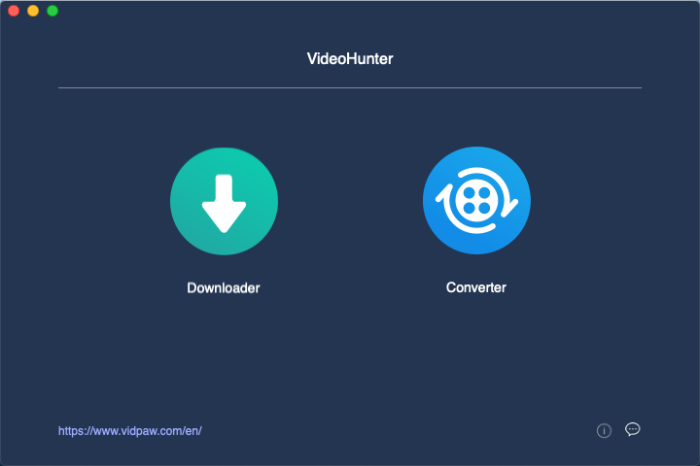 STEP 2. Then, use browser for going to YouTube or other supported online platform. When you find the song or soundtrack you like and want to make as your iPhone ringtone, please copy the URL of it.
STEP 3. Now launch VideoHunter and enter the main feed of its "Downloader". Here, directly paste the URL of the song to the frame bar, and hit the "Analyze" icon.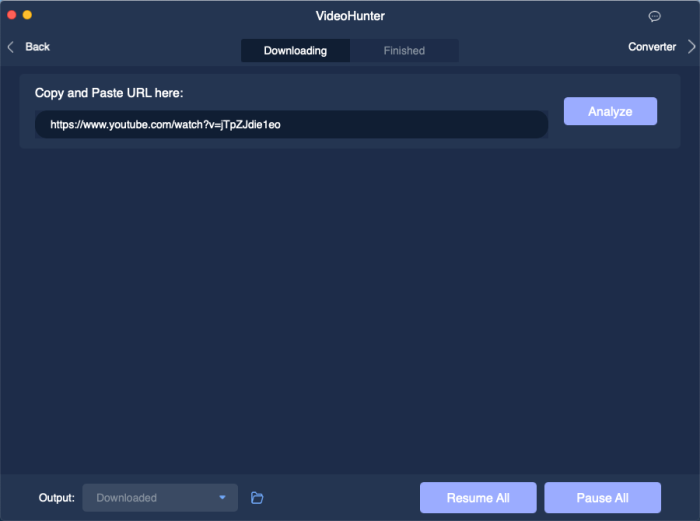 STEP 4. After VideoHunter analyzed the song and offers a variety of output choices to you. Directly choose the option you need and hit the "Download" icon for saving the ringtone offline on your computer.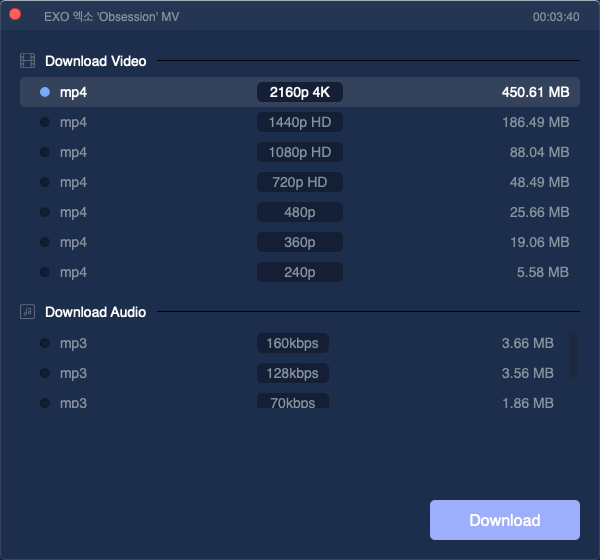 When the ringtone you select from the online platform is downloaded locally, you can connect your iPhone to the computer using iTunes, then import it to the iTunes Library. After that, go to iTunes on your iPhone, and you can find the song. Directly make it as your unique ringtone! If you successfully transfer the song to iPhone but fail to make it as ringtone, you can follow Solution 3 to continue the operation.

Solution 2. Purchase iPhone Ringtones on iTunes Store
If you want to use the high-quality ringtones provided in iTunes Store, you can choose to purchase them here directly. This way makes the process to be even more convenient. Let's see how.
STEP 1. On your iPhone, go to iTunes Store at first. Then in the app, tap "More" > "Tones".
STEP 2. Then iTunes Store will bring you to the ringtone library it possesses. Here you can find lots of ringtones. So just scan the list for getting the one you like. Or, you can directly search for the one specifically.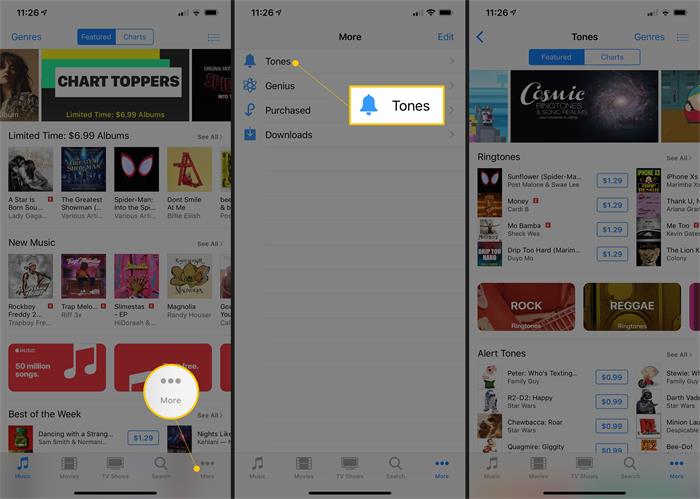 STEP 3. When you decide the ringtone you want to set for you iPhone, click the price icon beside the song and use the payment method you have added to your phone for paying for it. When the payment is done, hit the "Done" button, then the newly-purchased ringtone will be added to "New Tone" section.
STEP 4. Now go to "Settings" > "Sounds & Haptics" > "Ringtone", firstly, you need to click "Download All Purchased Tones", and your purchased ringtone will be downloaded, then show up in the list. Just select it and your iPhone ringtone is set successfully!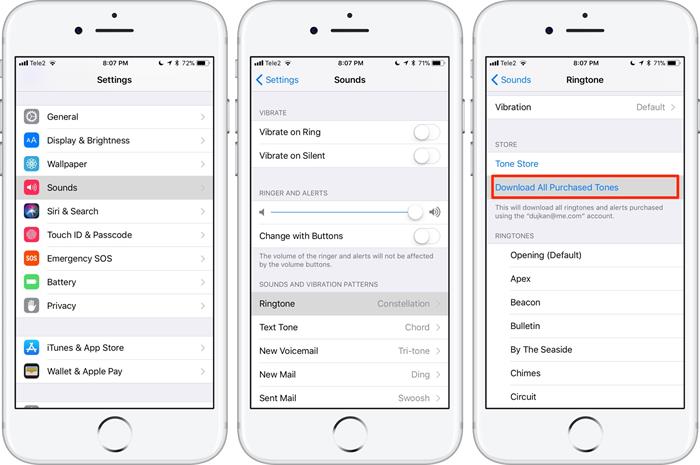 Solution 3. Create Ringtones on GarageBand by Your Own
In addition to use some existing soundtracks or songs, you can also create an unique iPhone ringtone by yourself through recording. Apple provides an excellent app named GarageBand for artistic creators. Now, let's see the detailed steps on how to create a ringtone for using by our own.
STEP 1. Open GarageBand on your iPhone, then, tap the "+" icon in the top right corner. Choose "Audio Recorder" for creating a new project.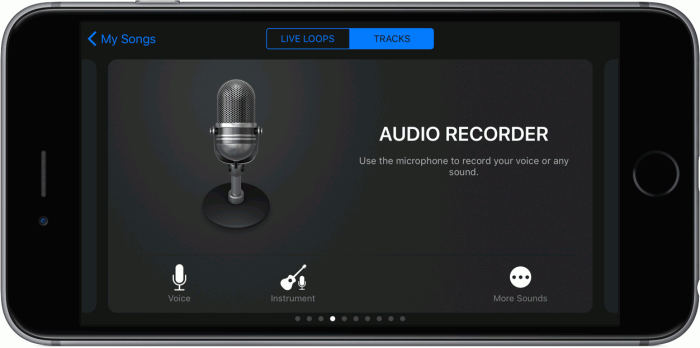 STEP 2. Now you should hit the sound bar icon for adding a new audio track. Also, click the "+" button in the top right corner for adding song sections as well. You can manage the sections such as choosing its duration in maximum, or lining up them in the order you want. Then click "Done" for adding.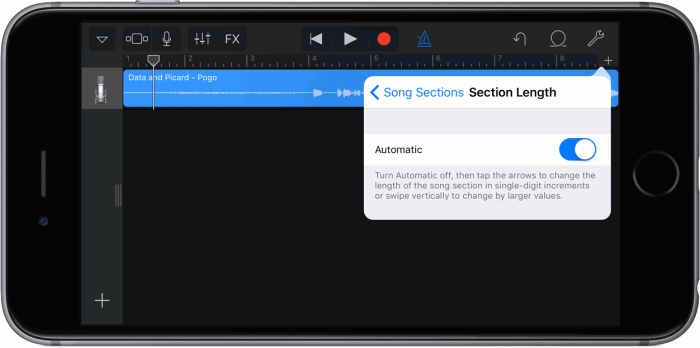 STEP 3. When you see the "Loop" icon in to top right side of the interface, which is next to the setting icon, click it and enter a new menu. Navigate to its "Music" section and drag the song you want to edit to the timeline. Then you can edit the song freely according to your need.
STEP 4. After editing, tap the downward icon and go to "My Songs", then you will see this recently edited song in the list. Long press it and click "Share". A "Ringtone" option will be provided. Choose it, edit the name of the song, and finally click "Export".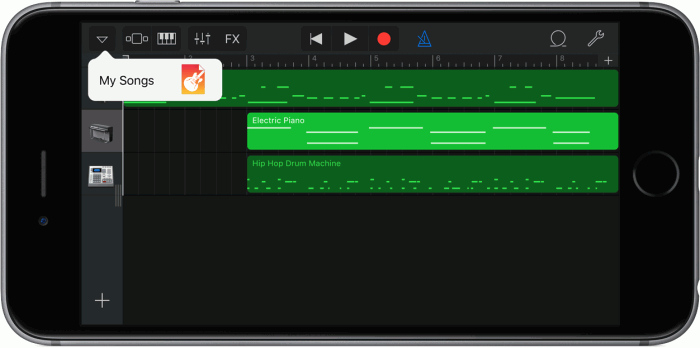 STEP 5. Then go to "Settings" > "Sounds & Haptics" > "Ringtone", you will see your created ringtone is added. Directly choose it to be your iPhone ringtone!
Now you get three ways to create your personal iPhone ringtone. Try the one you like for using the soundtrack you prefer to make your ringtone easily-recognized and attractive!
Excellent

Thanks for your rating.