Halloween is around the corner! Monster movies start to crowd prime-time programming. But not all Halloween monster movies are suitable for kids. The sad-trombone noise and the too horrifying shot may scare the children. Parents should look for some not-so-scary Halloween movies for kids on Netflix, YouTube or other kid movies source.

In order to make kids enjoy watching monster movies in a safe way, we list 7 not-so-scary kids monster movies for Halloween in this post. Read on to get a better Halloween movies night with your kids!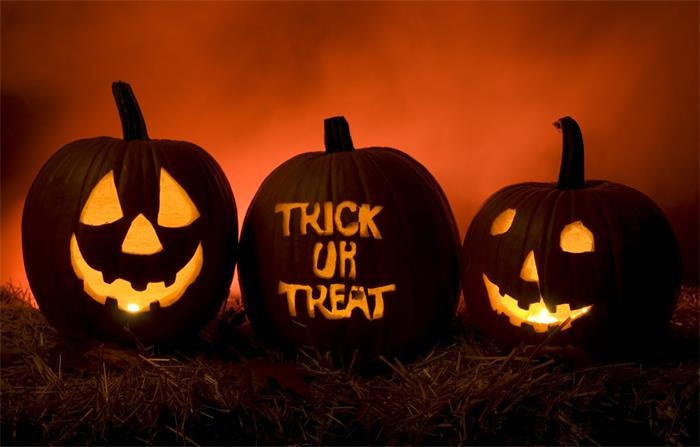 Part 1. Funny Customs and tradition of Halloween
Funny customs and tradition make Halloween become more and more popular. Halloween transitioned from a Celtic harvest festival to a day of parties, costumes, Jack O'Lantern and trick or treat for kids and adults. Want to know more about those Halloween customs and tradition? Just keep reading further!
In Halloween, children go in costume from door to door, asking homeowners with the question "Trick or treat?" Treat indicates candy or something money while trick implies a threat. What children want to express is that either give us candies or we will play tricks on you. Children love the "trick or treat" game for they can get many free candies and have fun in playing tricks without being punished.
Adults and children dress themselves up as various kinds of characters by Halloween Costumes. Traditional Halloween costumes modeled after supernatural figures such as vampires, monsters, ghosts, skeletons, witches, and devils. But nowadays, more and more people would like to dress funny Halloween costumes from Marvel Superheroes, Disney princesses, and other cartoon characters.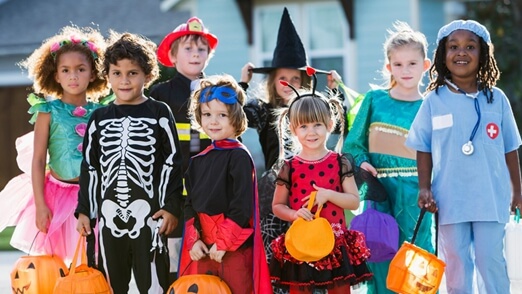 Jack O'Lantern is a carved pumpkin or turnip lantern with a monstrous or comical face. The funny lantern comes from an Irish folktale about a man named Stingy Jack, representing a "soul who has been denied entry into both heaven and hell". Now, it is common to see Jack O'Lantern on doorsteps and otherwise used as decorations prior to and on Halloween.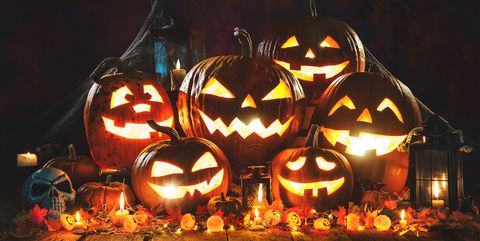 Part 2. Top 7 Monster Movies for Kids in this Halloween
Another Halloween tradition for kids is to watch kids monster movies. But what Halloween movies can kids watch? To protect children from being too frightened, we've rounded up the top 7 not-so-scary Halloween movies for kids.
It is a free-of-spooks comedy in which kids will find some cute and funny monsters. Monsters Sulley and Mike are employed by a scream factory called Monsters, Inc and their jobs are to scare children. But they make good friends with a 2-year-old baby girl who happened to come to the monster world. And they must send her back home safely before things got worse.

Rate: G
Recommended age: 5+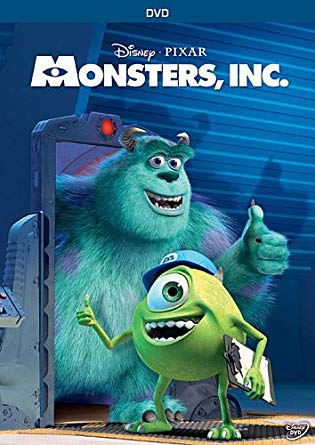 Dracula's story is fitting for the spooky season! The movie tells a story of Count Dracula, the owner of a hotel called Hotel Transylvania where the world's monsters can take a rest from human civilization. On one weekend, a human boy Jonathan stumbles upon the secret hotel before the Dracula's daughter 118th birthday party starts, Dracula is frightened and tries methods to hide him from the monster guests and prevent him from falling love with his daughter Mavis.

Rated: PG
Recommended Age: 7+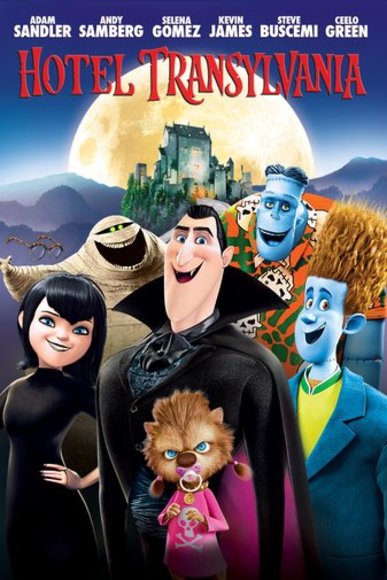 It is a French kid movie about a Parisian adventure of chasing a flea monster. A scientist Raoul did an experiment with the help of his friend Emile, a cinema projectionist. To their surprise, a tiny flea turns into a giant "monster". A cabaret singer Lucille, discoveries the big flea is not only gentle and friendly, but he's also a gifted guitar player. They decide to save it from dastardly police chief's clutches.

Rated: PG
Recommended Age: 8+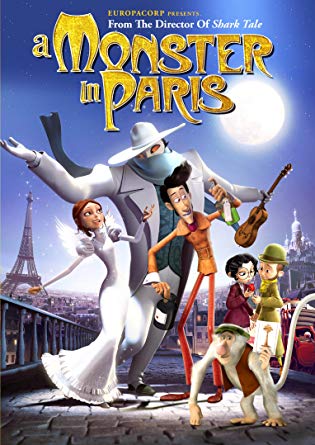 Can you image your neighbor's house is really a living, breathing, scary monster? It may sound a little bit scary but the movie also makes kids laugh. A suburban home has become physically animated by a vengeful human soul looking to stir up trouble from beyond the grave On Halloween night, three teenagers try to discover the secrets hidden in their neighbor's spooky house and end up getting more than they bargained for.

Rated: PG
Recommended Age: 9+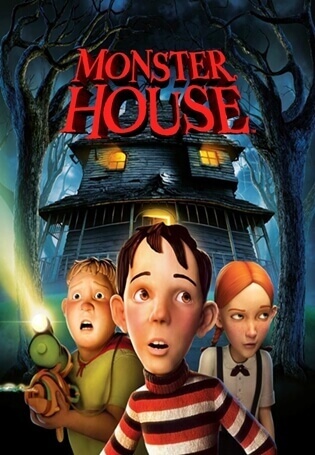 It is a heartwarming monster movie for kids. Victor attempts to bring his beloved pet Sparky back to life through a powerful science experiment. But when the bolt-necked "monster" wreaks havoc and terror in the hearts of Victor's neighbors, he has to convince them that despite his appearance, Sparky's still the good loyal friend he's always been.

Rated: PG
Recommended Age: 9+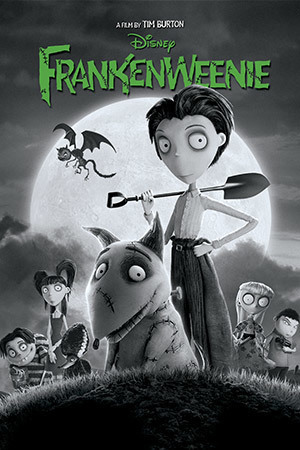 Monsters and aliens count as scary stuff but kids may be amused by some silly slapstick in this movie. A meteorite from outer space hits a young woman named Susan Murphy and turns her into a giant monster. After that, she becomes part of a team of monsters sent in by the U.S. government to defeat an alien mastermind trying to take over Earth.
Rate: PG
Recommended age: 9+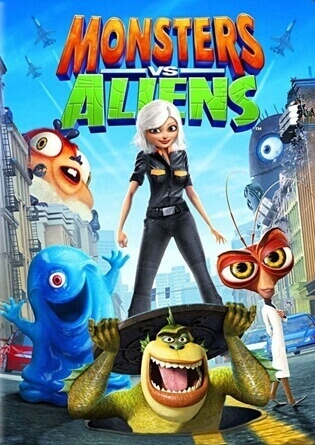 It is a movie full of ghosts, corpses, zombies, and witches. But the quirky movie teaches compassion and tolerance for the strange and unusual. This story follows a misunderstood boy named Norman who can speak to the dead. One day, after getting a horrific secret, he and his new buds decided to team up to fight the monsters in their town and save the adults from a curse.

Rate: PG
Recommended age: 10+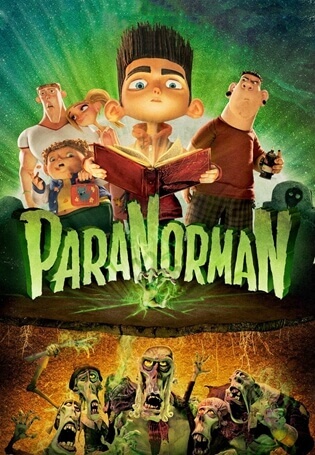 Nothing makes Halloween more fun than watching monster movies! All above Halloween movies for kids are the right mix of funny and spooky. Choose one kids monster movie and enjoy it with your kids on Halloween!
Published on October 30, 2018